Video
Exploring the world of waterbugs: How to run a waterbug session with kids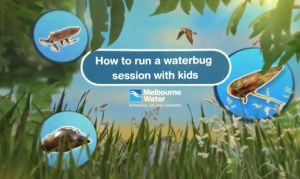 This video takes you through the key steps of how to sample and look for macroinvertebrates (waterbugs) with your kids! Priya makes it simple for you to take testing to your school.
Don't forget to contact your local Catchment Management Authority to see if you can borrow some equipment to run the testing with your group.
Fauna (animals)

,

Teacher

,

Type

,

Video

,

Water bugs

,

All Regions

,
Nine days on Tang Tang Swamp

Watch environmental change occur over a period of nine days at a drying waterhole at a public wetland located in North Central Victoria.
All

,

Catchments

,

Fauna (animals)

,

Video

,
Fresh and Salty video

Fresh and Salty is a short animated film produced by the Wimmera Catchment Management Authority. Great for students!
All

,

Catchments

,

Salinity

,

Video

,

Water Science

,

Waterways

,

All Regions

,